A tool for evaluation of production capacity of a compounding unit
20 March 2018
F. Puisset , S. Perriat, A. Martel, C. Morel, Y. Cretu, A. Grand, JM. Canonge
IUCT-Oncopole Toulouse France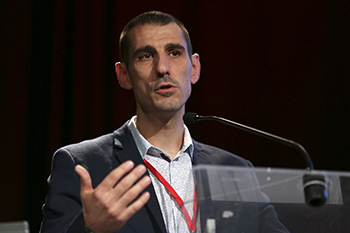 Introduction
There are different ways to define how many people are needed according to the number of preparation in a compounding unit. Several task influence the preparation duration (TIP) : preparation of sterilization basket, airlock loading, chaining of sterilization cycles, preparation duration, number of preparation (prep) per airlock. Because the time consumed by the TIP is uncertain, there no linear relationship between number of preparations and number of people needed.
The aim of this study was to assess a tool to simulate the TIP duration to predict the production capacity of our unit.
Methods
TIP's Means (m) and standard deviation (sd) have been timed at three different periods. Row data were used to simulate (rnorm function, R software v3.3.1) TIPs corresponding to 500 preps. Then simulated TIPs were added in a model to compute time needed from start of airlock loading to preparation release. The model was validated by the comparison of the simulated production capacity and actual production using the Wilcoxon test.
Results
TIPs values follow a log-normal distribution. Means (min) [sd] were 8.75 [4.9] ; 2.2 [1.2] ; 3.5 [2.8] for preparation of sterilization basket, chaining delay of sterilization cycles, preparation duration respectively, airlock were loaded with a mean of 5 preps (sd = 1). The production capacity of a work station was estimated between 18 and 25 preps for 2 hours. During the 2 first hours of 20 days, the mean actual production was 63 preps, the mean simulated production in the same condition was 61 preps (p=0.27).
Conclusion
The simulation of TIPs by a log-normal distribution allows the assessment of how many time and people are needed according to the number of preparations. The model is validated since the simulated production capacity corresponds to the actual production. It will be used to plan the impact on the production capacity of different organization of our unit.