1st CRUATHLON of the regional cancer group ONCAUVERGNE
24 October 2018
SIGWARD Estelle 1, BERTUCAT Hélèna2, DE LAULANIE Marion3, DELIGEARD Emmanuel4, FONTVIELLE Amélie5, GRANGE Isabelle6, JOUANNET Mireille7, JULIEN Geneviève8, LAFON Marie Pierre9, LECHEVALIER Cécile10, SIMAND Agnès11, TREVIS Sophie7, CHEVRIER Régine12
(1) CH Montluçon, (2) CH Vichy, (3) Clinique Saint François Désertines, (4) CH Moulins-Yzeure, (5) CH-St Amber, (6) CH Le Puy en Velay, (7) CHU Clermont-Ferrand, (8) CH Thiers, (9) CH Aurillac, (10) CH St Flour, (11) Pole Santé République Clermont-Ferrand, (12) Centre Jean Perrin Clermont-Ferrand. FRANCE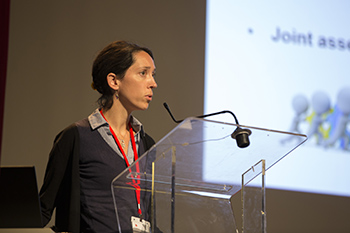 Continuing education of hospital pharmacy technicians (HPT) is important for cytotoxic reconstitution units (CRUs). Good Preparation Practices require regular evaluation of the theoretical and practical knowledge of HPTs. A joint assessment of HPTs (CRUATHLON) has been set up in the 11 public and private establishments belonging to the Oncauvergne group.
Organization of the CRUATHLON: 1) Use of GERPAC 2016 quizzes, 3 themes: a) safety of the preparation, b) materials and techniques, c) quality, risks and regulations 2) Minimum 2 HPT participants by CRU 3) Realization of quizzes within each CRU 4) No intervention of pharmacists 5) Transmission of results to the organizing pharmacist 6) Awarding of prizes to the 2 best CRUs: gold and silver glove.
14 quizzes in 3 sets over 1 year were submitted to 37/48 HPTs of 8/11 CRUs. 3 CRUs could not participate due to internal organization. The overall average is 78.1% and by theme a) 81% b) 72.5% c) 80.9%; by quiz: best result 97.5% (quiz n ° 9 Relationship between International Chemical Name-Specialty), worst result 59% (quiz n ° 21 Medical devices for handling risky drugs). The CRU winning the gold glove scored 82.9%, the CRU winning the silver glove scored 82%.
The organization of a CRUATHLON allowed to evaluate the knowledge of the HPTs but also to exchange on practices within each CRU (after the realization of the quizzes) or during the prize-giving between HPTs/Pharmacists. All the HPTs of each site could not take part in all quizzes, the realization being carried out during working hours (presence of 2 to 10 HPTs/CRUs). However the HPTs could practice them again after transmission of the results. Some disparities in results between CRUs are due to activity, 1 center performing only oncology (the Intrathecal quiz has been a problem) and number of annual preparations performed is very different : less than 5000 to more than 30.000 (difficulties with the quiz 18 Handling techniques, involving needles). The quiz 21 uses theoretical knowledge that is not/more discussed in everyday practice. A reminder of this knowledge will be set up. The feeling of the HPTs has been very positive. A 2nd CRUATHLON is planned this year: the isolator of errors.
Watch the video in simultaneous translation