Evaluation of the stability of a 10mg/mL Cefuroxime solution for intracameral injection in new sterile vials
3 October 2013
Frédéric Feutry1,2, Nicolas Simon2,3, Stéphanie Genay1,2, Tsanta Radaniel,2, Damien Lannoy1,2, Christine Barthélémy2, Bertrand Décaudin1,2, Pascal Odou1,2
1 University Hospital Centre, Pharmacy Institute, Lille, France
2 Department of Biopharmacy, Galenic and Hospital Pharmacy,EA GRIIOT, UFR Pharmacie, Lille,
France
3 Oscar Lambret Centre, Oncology Pharmacology Unit, Lille, France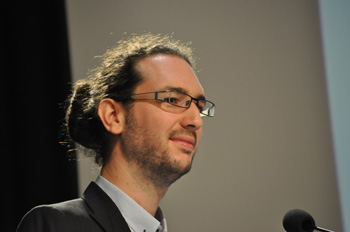 Introduction
Crystal® vials are new closed and sterile plastic vials. Moreover, a specific process is used to re-seal the stopper immediately after filling with a reduced risk of microbial contamination. The aim of this work is to compare the physicochemical stability of a cefuroxime solution between these
vials and the syringes reference technique.
Methods
1mL Crystal® vials (Aseptic Technologies) and 1mL polypropylene syringes (Luer-Lok, BD) were compared. Cefuroxime solution (10mg/mL) was prepared according to the French National Formulary and packaged in vials (V) and syringes (S). The study was performed according to the SFPC/GERPAC guidelines at 2 temperature conditions: -20°C, +5°C. Degradation products were detected by heat degradation. Concentrations were determined by HPLC/UV (n=6 in triplicate for each packaging). Solutions were stable if the concentration stays over 90% of the initial value. Current values
were compared to this threshold with a Student's test (p<0.05).
Results
Stability was assessed up to 90 days at -20°C and 70 days at 5°C. In both conditions, no differences appeared between syringes and vials for cefuroxime and degradation products. As expected, the solution is stable during 90 days at -20°C (V=102.6±1.9% p>0.99; S=98.4±9.1% p>0.99) whereas at 5°C the concentration is below 90% after 35 days (V=87.0±2.1% p<0.01; S=86.6±0.8% p<0.01).
Discussion-conclusion
Stability of the cefuroxime solution was identical between syringes and vials.
Because the filling process is easier and allows an increased control of aseptic conditions, other classes of drugs should be evaluated to confirm the interest of this primary packaging for hospital compounding.