Points clefs pour la désinfection des salles propres
2 octobre 2014
Tim Sandle
Head of Microbiology at Bio Products Laboratory Limited, UK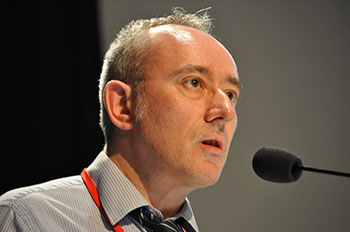 In this presentation Dr. Tim Sandle will outline the importance of contamination control for cleanrooms. The presentation will centre on the use of detergents and disinfectants as part of the control strategy. The presentation will discuss the differences between different types of disinfectants (including those intended to be sporicidal) and the steps to be followed for their selection. Key GMP topics will also be addressed, including disinfectant rotation, qualification and the importance of examine microbial counts and the types of microorganisms recovered from an environmental monitoring programme.
About the presenter :
Dr. Tim Sandle is a chartered biologist with over twenty-five year's experience of microbiological research and biopharmaceutical processing. This includes experience of designing, validating and operating a range of microbiological tests including sterility testing, bacterial endotoxin testing, bioburden and microbial enumeration, environmental monitoring, particle counting and water testing. In addition, Tim is experienced in pharmaceutical microbiological risk assessment and investigation.
Dr. Sandle serves on several national and international committees relating to pharmaceutical microbiology and cleanroom contamination control (including the ISO cleanroom standards). He is a committee member of the Pharmaceutical Microbiology Interest Group (Pharmig) ; and is a member of several editorials boards for scientific journals.
Dr. Sandle has written over three hundred book chapters, peer reviewed papers and technical articles relating to microbiology. This includes writing the books : "Sterility, sterilisation and sterility assurance for pharmaceuticals : Technology, validation and current regulations" and "Sterility Testing of Pharmaceutical Products" ; as well as editing the book "The CDC Handbook : A Guide to Cleaning and Disinfecting Cleanrooms" ; and co-editing the comprehensive books "Microbiology and Sterility Assurance in Pharmaceuticals and Medical Devices" and "Cleanroom Management in Pharmaceuticals and Healthcare".