Contamination chimique de la famille des patients à partir des excrétas
2 octobre 2014
Paul Sessink1, Michiko Yuki2, Satoko Sekine2, Kanae Takase2, Takashi Ishida2
1 Exposure Control Sweden AB
Web : www.exposurecontrol.nl Email : info@exposurecontrol.nl
2 Fukushima Medical University Japan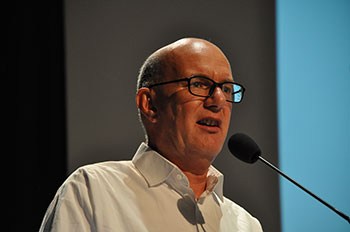 Cytostatic drugs in hospitals
Cytostatic drugs are very toxic drugs. For healthcare workers such as pharmacists, pharmacy technicians, nurses, medical doctors handling these drugs, exposure may also cause adverse effects such as cancer, foetal malformations, and foetal loss during pregnancy even at low exposure levels. To prevent exposure of healthcare workers to cytostatic drugs, special working conditions are created and personal protective equipment is used. All these precautions are well documented in guidelines and regulations and have the aim to offer a maximum of protection to the healthcare workers.
Cytostatic drugs at home
At the moment the patient is leaving the hospital to continue the chemo treatment at home or to start a treatment for example with oral cytostatic drugs, the situation is totally different compared to the hospital. Now family members and friends of the patient are at risk as they might be exposed to the cytostatic drugs at home via contaminated surfaces and excreta or via direct contact with the patient. Guidelines and regulations to offer protection to family members and friends are lacking.
Study
As far as we know, no studies have been published concerning environmental contamination with cytostatic drugs at home and exposure of family members of patients to cytostatic drugs. Recently, such a study was performed by the Fukushima Medical University in Japan. Three cases were investigated : two patients receiving cyclophosphamide and one patient receiving 5-fluorouracil. Urine samples were collected from the patients and their family members and analysed for cyclophosphamide or α-fluoro-β-alanine (5-fluorouracil metabolite). In addition, wipes samples were collected from their home environment and analysed for cyclophosphamide or 5-fluorouracil.
Results
A total of 35 and 16 urine samples were collected from the patients and their family members, respectively. In all urine samples cyclophosphamide or α-fluoro-β-alanine was detected. Cyclophosphamide was found in most wipe samples collected from surfaces at the homes of the two patients receiving cyclophosphamide. On the contrary, contamination with 5-fluorouracil was not observed on the surfaces at home of the patient receiving 5-fluorouracil.
Conclusion
The results show environmental contamination with cyclophosphamide in the home environment of patients treated with cyclophosphamide. The results also show exposure to cytostatic drugs of family members of the three patients. Although the period of exposure is probably shorter compared to occupational exposure of healthcare workers in hospitals, results show sometimes higher exposure levels than in hospitals. As many cytostatic drugs are very persistent, exposure may continue over time. The results strongly support the need for guidelines to prevent or at least to minimize exposure of family members and friends of patients to these toxic drugs at home. Special attention should be given to so-called sensitive groups such as (young) children and (potential) pregnant women.
Funding The study was supported by grants from The Secom Science and Technology Foundation.