Session 4: Out-sourcing in hospital pharmaceutical technology units
6 October 2017
Dr M-L. Brandely1, Pr F. Sadeghipour2
1 Paris-Centre Hospital Group, Hôtel Dieu, France
2 University Hospital Lausanne, Switzerland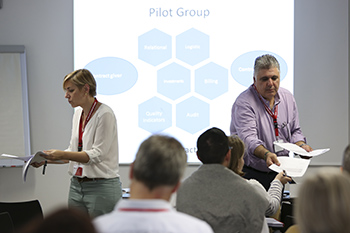 Drugs preparation requires an adequate number of qualified people and premises adapted. Legal requirements for manufacturing drugs are constantly increasing. To face these exigencies, outsourcing preparations between hospital pharmacies or other manufacturer has developed in recent year. Different preparations as anticancer drugs, parenteral nutritions or other individual or hospital batch preparations can be outsourced.
The objective of this workshop is to discuss the following points:
Regulatory aspects
Methodology for the implementation of the outsourcing
Development of the contract between the Contract Giver and the Contract Acceptor
Monitoring of outsourcing in particular by carrying out audits
These various elements will be discussed theoretically and enriched the workshop with practical experiences of the participants.