Qualification of the Noodis® robot for liquid oral medications doses filling and tapering
6 October 2021
F. Lagrange
1
J Lagrange
2
1
Pierre Lôo and Henry Dunant Hospital Pharmacies, Nièvre Hospitals Group, 51, rue des Hostelleries, BP 137, 58400 La Charité-sur-Loire, France
2
Epitech Paris, France and CSULB, Long Beach, CA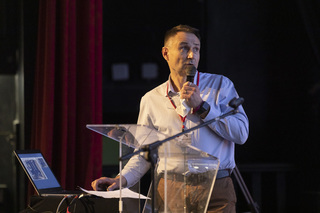 Objectives
Liquid medications were originally an alternative to splitting pills and dosages by measuring an amount of liquid rather than crushing tablets or opening capsules. Liquid medicines are also often used for specific patient groups with swallowing difficulties, enteral feeding administration or to ease withdrawal symptoms for people suffering from addiction. However, filling liquid medication cups with the right medication and precise doses is difficult for health professionals especially in gradually decreasing doses during withdrawal protocols.
Handling liquid dose, splitting pills, crushing tablets or opening capsules remain a manual process inefficiency that has been yet to be solved with automation. The NOODIS® ("Nominative Oral Dose Dispenser" - Packinov, France and Pierre Lôo Hospital, France) ® is a new robotic system for automated filling of single dose liquid medications. The prime objective of the study is to evaluate the performance of the NOODIS® medication robot.
Methods
The performance of the robot (accuracy, precision, tapering calculation) to fill medicine cups was evaluated with 18 different liquid medications using an automatic in-line checkweigher. Bioburden testing was also performed.
Results
648 sealed cups were prepared for qualification. The filling accuracy was within the limit of ± 10 % from 75µL to 21.25 mL. The repeatability (%RSD 0.05 to 4.93) and intermediate precision (%RSD 0.01 to 6.59) were validated for all preparations. The qualification procedure led us to exclude preparation of any volume lower than 37 µL and higher than 30mL. All medicine cups met the requirements of USP and European Pharmacopoeia acceptance criteria for microbiological quality. Automated tapering calculation allowed easy production of daily doses for the tapering period chosen.
Conclusion
Doses of liquid medications are an alternative to fractioned or crushed tablets, opened capsules. Since the system met the required quality standards, the NOODIS® robot with automatic in line tapering system is an accurate technology to fill the exact amount of liquid oral in single dose cups. This may improve a closer monitoring and team-based approaches to support medication tapering as well as drug diversion prevention.
(Short video available for oral presentation Conflicts of interest: none even if the authors drafted the specifications, chose a contractor to carry out the project of the robot, and conducted the development of the robot for their pharmacy department)