CIVAS, Current UK Practice and challenges
9 October 2010
A. Horton
Plymouth Hospitals NHS Trust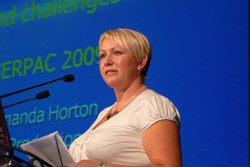 In1976 the Breckenridge report recognised that the aseptic preparation of additives to intravenous fluids was an activity best performed in specialist pharmacy facilities, although the subsequent transfer of aseptic preparations to pharmacy from clinical areas, has been slow and sporadic. Following the publication in March 2007 of National Patient Safety Alert 20 (NPSA 20), 'Promoting the Safer Use of Injectable Medicines' the focus on the provision of ready-to-administer or ready-to-use preparations has again increased.
Within the pharmacy aseptic unit at Plymouth Hospitals NHS Trust injectables are prepared under Section 10 of the Medicines Act 1968, under the supervision of a pharmacist or manufactured under the "Specials" Manufacturing Licence granted and audited by the Medicines and Healthcare products Regulatory Authority (MHRA). Preparation under section 10 is considered a "dispensing activity" and is particularly important for products required at short notice, in small quantities, with limited stability or with non-standard formulae. Manufacture under the licence is used for batch production to a standard formula, and where long term stability has been established. Products are subject to in-process assay, end product testing, post process media fill simulation, sterility testing and then final approval by a quality control releasing officer.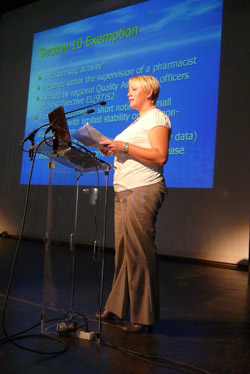 All injectables are prepared in an EU grade A environment, non-cytotoxic preparations in vertical or horizontal laminar flow cabinets situated in grade B cleanrooms and cytotoxic injectables in negative pressure isolators in grade C cleanrooms. Compounding is carried out by dedicated, aseptically trained technicians and assistant technical officers. All personnel receive Good Manufacturing Practice (GMP) training and complete a training checklist and competency assessment for each product type before working unsupervised in the cleanrooms. The unit is managed by a Senior Pharmacy Technician, who is currently completing a specialist Masters qualification in Pharmacy technical services and quality assurance at the University of Leeds.
The ultimate aim for UK hospitals must be to develop a co-ordinated service making appropriate products, assessed as "high-risk" in NPSA 20, in pharmacy aseptic facilities. However, there are challenges including capacity issues, investment for continual development of aseptic facilities, availability of equipment and staff to provide an effective aseptic service, and stability issues with the newer biological medicines.