Automated Oral Liquid Compounding Technology with Internal Engineering Controls for Hazardous Compounding
8 October 2021
J. D'Silva (Ohio - USA)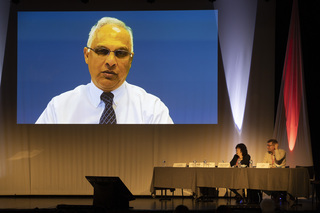 Joe D'Silva, B. Pharm, Ph.D. Patients' & Consumers' Pharma
7575 Paragon Road Dayton, OH 45459, U.S.A
QuartetRx® is an automated technology that compounds high quality oral liquids using an easy, efficient, and safe method. It uses fully enclosed compounding, storage, and dispensing from a single container with no product transfer. No equipment cleaning is required. QuartetRx consists of a small bench-top milling unit and special plastic containers with an internal abrasive surface. The patented technology employs physical forces to provide efficient wet milling. The system can simultaneously compound up to four formulas at one time. The technology was reverse engineered from the principles of a colloid mill. QuartetRx eliminates the possibility of aerosolization of powders during compounding, so it protects personnel during compounding with hazardous medications.



Tablets, whole capsules, or pharmaceutical powders are placed in the bottle with a diluent. The capped bottle is placed in the milling unit and spun at a high RPM using a planetary motion. The wet milling process produces fine, uniform, rounded particles that resuspend well, resulting in accurate dose uniformity. Flavored excipient sachets and a formulary are provided to transform the suspensions into liquids suitable for dosing to patients. Manual compounding procedures for present formulations can be transferred to the automated QuartetRx method.